Online Personal Training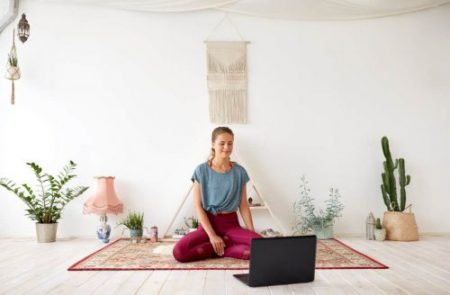 'ONLINE PERSONAL TRAINING IS THE NEXT BEST THING TO A FACE-TO-FACE TRAINING SESSION'
WORKOUT ONE-TO-ONE WITH A REAL ELITE PERSONAL TRAINER THE MOMENT IT SUITS YOU.
LIVE AND INTERACTIVE PERSONAL TRAINING OVER VIDEO AVAILABLE WITH FABIOLA, 24/7
When you want to progress and hit certain goals, the cost and access to great Personal Training is often a barrier. With busy lives and work schedules, exercise can be hard to fit into your daily routine. If you go to a gym constant queues for equipment and basically no direction when you're there.
If you know anyone who has had a personal trainer, (well… a good one at least) you know that they can have an instant impact on motivation, routine and the time it takes to make lasting changes to behaviour.
Whether you're just getting into fitness or you're a seasoned pro; No gym contract, creating your own routine or hidden fees to worry about. Sign up, find a time that suits you and workout at home, at work, or anywhere you want!
HOW TO GET THE MOST OUT OF YOUR ONLINE PERSONAL TRAINING SESSIONS
STEP 1. BOOKING YOUR SESSIONS
Contact me to arrange your session over email or a quick phone call (15 mins max). After that, you can book 48-hours in advance of your planned session. Make sure you have purchased your session and completed the Client Lifestyle Questionnaire through the Client Portal.
STEP 2. TIMING
You will have 36-hours cancellation window prior to your session without losing your credit.
STEP 3. MEALS AND FOOD INTAKE
I want you to have enough energy to get through the session, so make sure to either follow my diet plan (subject to the package purchased) or eat a piece of fruit 15 mins prior and post-session.
STEP 4. PREPARE YOUR SPACE
The bespoke routines I have created for you I there to be dynamic, ideally, you want to have about 4 square metres of space around you to just be certain nothing will get in your way.
STEP 5. MATERIALS & SAFETY
Your safety is my primary concern in our session. Make sure that you report any current injuries you may have leading up to a session by dropping me an email. Working out on safety flooring and excluding slippy rugs or carpets is advisable.
STEP 6. BE COMFORTABLE
Loose-fitting, cool or gym clothing is recommended for our session. My clients so have been burning between 400 and 600 calories in a session, so you are going to get hot, and sweaty!
STEP 7. WATER & TOWEL
Make sure a full water bottle or glass in nearby when you need it and a towel to wipe yourself down if you get super hot!
STEP 8. DEVICE, BATTER, WIFI AND 4G
If you know you're out and about and you're on 4G, you might be experiencing more data than normal, that goes for your battery too – make sure you're nearly fully charged before your session starts. You can workout live if you have a compatible smartphone or laptop with a built-in video camera.
TAKE THE NEXT STEP TO A FITTER AND HEALTHIER YOU
Online personal training makes it easy to fit a quality workout into any routine. Grab a small slice of time and dedicate it to your health and fitness.
YOUR BODY DESERVES IT, AND I CAN'T WAIT TO MEET YOU! SEE PRICE LIST HERE
Contact Fabiola today and take the first step towards changing your life:
Contact Fabiola